Updated August 22, 2015
SloPitch1.com is a directory of slo-pitch leagues, teams and tournaments in the greater Toronto /Golden Horseshoe area of Ontario, Canada including: Toronto, Etobicoke, Mississauga, Brampton, Scarborough, Niagara Falls, etc. with maps to all softball diamonds in the GTA; Toronto, Mississauga, Brampton; from Ajax to the Falls!
RSPA Slo-Pitch Tournament September 26-27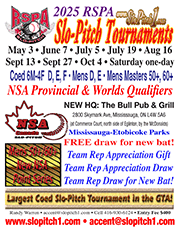 RSPA Recreational Slo-Pitch Association
is a non-profit, recreational, coed (7M-3F) slo-pitch league for adults (16+/18+) in the Mississauga and west Toronto/Etobicoke area. RSPA is in its 32nd year and is the largest coed league in the GTA with 180 teams in 24 divisions for 2015 and
ALL
the teams make the playoffs! RSPA offers the most coed divisions of any league, with divisions in "Comp", several different levels of "E", Coed "F" and a "Corporate/Fun" division for corporate teams. We are SPN affiliated, fully insured and use SPN carded umpires. A great league, with lots of other activites — Volleyball Night; All-Star Night with home run, base running and other contests and FREE barbecue, plus Poker Night, Euchre Night and the
BEST
banquet in town!
Looking for new teams and new players for 2016!
- -
www.slopitch1.com/rspa/
Map of all Slo-Pitch Parks and Diamonds
Etobicoke, Mississauga, Brampton, Oakville, Hamilton, Scarborough, Markham, Niagara Falls, Ajax, Oshawa, Pickering, Georgetown, Tottenham, etc.
GTA Park Maps
Updated January 16, 2015
What's New With SPN
Batter's area redefined: Rule 3 Sec 11 (page 13 2015 SPN Rulebook).
Coed batting order 6M-4F can now bat your batters in ANY order.
Can-Am Niagara Tournament.
SPN Ontario 175 foot rule.
What's New With SPN
Updated January 16, 2015
Home Run Sports
All your sporting needs.
1855 Dundas St East, Unit 15-16, Mississauga, ON L4X 1M1
map
Danny Lewicki web site
Check out his book - "From the Coal Docks to the NHL", the story of hockey life in Northern Ontario; Bantam, Midget and Junior; Toronto Marlboros; Toronto Maple Leafs; winning the Stanley Cup; the failed first Players' Association and life in the NHL.