Updated September 17, 2021
SloPitch1.com is a directory of slo-pitch leagues, teams and tournaments in the greater Toronto /Golden Horseshoe area of Ontario, Canada
including: Toronto, Etobicoke, Mississauga, Brampton, Scarborough, Niagara Falls, etc. with maps to all of the softball diamonds in the GTA;
Toronto, Mississauga, Brampton; from Ajax to the Falls!
Slo-pitch, slowpitch or softball, no matter how you spell it, it's a great game!
RSPA Last Chance Tournament Saturday (one-day), October 2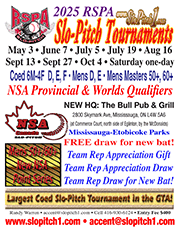 Team Rep Appreciation Gift & Appreciation Draw • Team Draws • Free Pitcher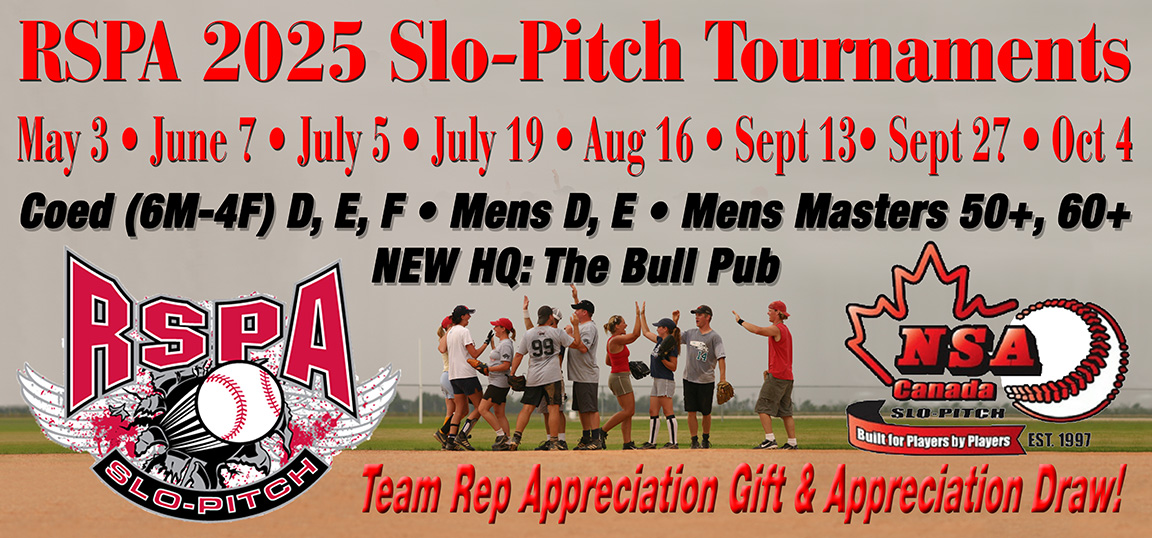 How To Register For An SPN Tournament
Updated June 15, 2021
Added a new page with instructions on How To Enter An SPN Slo-Pitch Tournament.
Also how to submit your tournament event roster and how to revise your event roster once submitted.
How To Enter An SPN Slo-Pitch Tournament
SPN 2021 Provincial Championships
Updated January 7, 2021
Slo-Pitch National has announced the Provincial Championship dates for 2021.

August 27-28-29, Friday-Saturday-Sunday, still in Niagara Falls.
• Mens & Womens Masters have been moved back into the last weekend of August
• Mens Masters 35A, 35C, 35D, 35E; Mens Masters 50A, 50IM & 50E;
& Womens Masters 35A, 35IM & 35E.

September 4-5-6, Saturday-Sunday-Monday in Brampton.
• Coed will be on the Labour Day long weekend. No Friday games.
• Coed Comp, C, D, E & F.

September 10-11-12, Friday-Saturday-Sunday in Niagara Falls.
• Mens C & Mens D with Womens D & Womens E.

September 17-18-19, Friday-Saturday-Sunday in Niagara Falls.
• Mens A, B & E & Mens Seniors 55+ & 60+; Womens A, B & C & Womens Masters 50+.
SPN Provincials added Mens 55+ & 60+ and Womens 50+
• SPN Ontario Provincial Championships ADDED Mens Seniors 55+ & 60+ and Womens 50+! ⚾⚾⚾
• Niagara Falls, Patrick Cummings Sports Complex, and will be featured on Diamonds 1-4 at Patrick Cummings.
• Teams will be welcomed on Friday evening, with their first tournament game being played after 5pm!
• Players are allowed to participate in both the Mens 50+ or Mens 35+ and Mens Seniors 55+ or 60+.
• Players just need to turn 50/55/60 by December 31st.
• 60's teams do not need to qualify for this event – simply register online for the tournament at www.slo-pitch.com
• Players who played in the +35 or +50 events are welcome to participate on a mens 55+ or 60+ team a 2nd time!
RSPA Slo-Pitch League now offers a Mens Masters 50+ E division!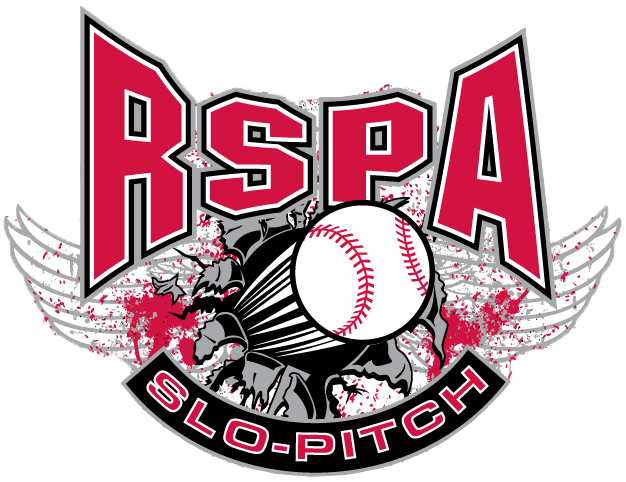 RSPA Recreational Slo-Pitch now offers a Mens Masters 50+ E division, probably WEDNESDAY nights (but open to discussion) Mississauga-Etobicoke parks, double-headers. SPN affiliated, SPN carded umpire (one umpire system). SPN insured. Called balls and strikes using a mat. No 1-1 count.
Also will have a pool of 50+ players looking to play. Looking for 50+ players.
Also offering tournaments for the Mens Masters 50+ division:
July 10 (Saturday only), July 24 (Saturday only), Aug 21-22, Sept 11-12 & Oct 2-3, 2021