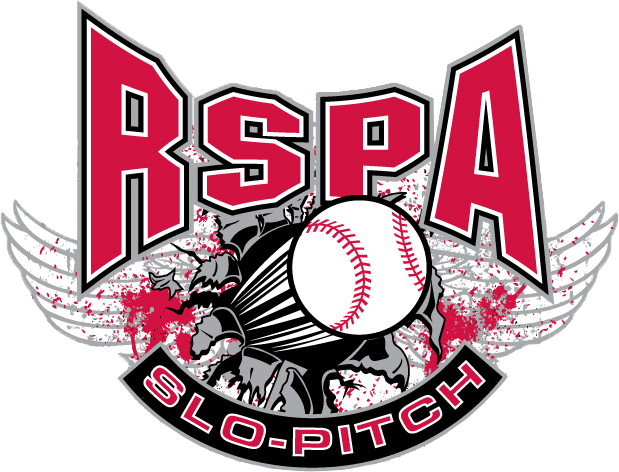 RSPA Coed Slo-Pitch 2020 Season Info
Updated August 7, 2020
With the GTA now in Phase 3, slo-pitch leagues and tournaments are back on the schedule.
Restrictions for leagues are maximum 4 teams, or 50 players/spectators in a division, or as they like to call it - cohort. No crossover is allowed. No division changes.

RSPA Coed (7M-3F) Slo-Pitch League schedule starts Monday, August 10.

See info below.

There will be no team rep meetings, no umpire clinic, no umpire meetings.

No RSPA banquets, no RSPA All-Star Night, no Friday night party nights, no volleyball night, etc.

RSPA tournament is not mandatory for 2020.

RSPA Tournaments will be allowed but max 4 teams per division will make it a one-day Saturday only tournament.

RSPA Tournaments:
Saturday, August 22 • Saturday, September 12 • Saturday, September 26, 2020.

Balls, rulebooks, scorebooks, any pre-ordered equipment, etc. will be delivered.

Team Info forms must be completed and submitted.

All teams must complete SPN on-line roster and all players must complete SPN waiver.

Any player that has not completed the SPN online waiver will not be allowed to participate.

Slo-Pitch National Covid-19 Recommendations For League Return to Play

See below for RSPA Covid Rules and Recommendations and Rule Changes for 2020.

For team reps looking to meet up with me -
RW availability
RSPA 2020 Info - What's New for 2020
Updated August 7, 2020

RSPA League fees 2020:
We reduced league fees as much as possible and offer delayed payments in order to ease the financial burden on the team reps and the players. Reduced the league fee to $750 for the season, but have to cut corners everywhere because insurance is for the year and it is actually up this year and SPN fee is for the year. Parks will be more as we will be using more lit parks in order to get as many games as possible. We are paying umpires a Covid premium. Cut costs: use more used balls, all teams do not make playoffs, cut back on awards, etc. League fees $750, All deposits by e-transfer.
Deposit $200 due Wednesday, August 5 • Payment $200 Friday, August 14 • Payment $350 Monday, August 24.
RSPA Rule Changes & Covid Rules and Recommendations:
Updated August 7, 2020

RSPA COVID RULES:

Team rep must confirm that all players are symptom free, and have not travelled in 14 days.

Roster must contain player contact info in case Covid symptoms have been reported.

Face masks are not mandatory but are HIGHLY RECOMMENDED for the batter, baserunner, catcher and umpire.

Teams will use their own ball for each half of the inning (so that only one team handles the ball).

Please read and adhere to:
Slo-Pitch National Covid-19 Recommendations For League Return to Play

RSPA will now use a full pitching mat with no cut out (covering homeplate/homeplate will be a strike)
or use the old pitching mat on top of home plate (the plate will be a strike).

Walk off home run will be allowed if
BOTH
teams REQUEST it. No out called for untouched base.

Home run rule will stay as an out if exceeds the match plus two.

ROSTERS
- Random roster checks on all playoff games. Teams must submit playoff eligible roster.
•
PLAYOFFS
- Any player not in uniform will require photo ID to participate.
•
RAINOUTS
- Any rainouts this year MAY NOT BE RESCHEDULED.
•
RW AVAILABILITY
- My availability is always posted on the web site at
RWavailability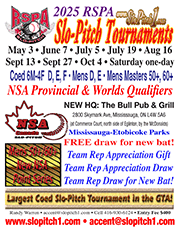 RSPA 2020 Summer Slo-Pitch Tournaments
SPN 2021 Provincial & National Qualifiers - First place hoodies!

Coed (6M-4F) D, E, F • Mens D, E • Mens Masters 35+ and 50+
Saturday, August 22 • Saturday, September 12 • Saturday, Sept 26 • Saturday, Oct 4 (all one day)
Teams accepted on a first come, first confirmed basis - SPN roster submitted and interac payment.
Etobicoke-Mississauga - Headquarters: Irish Shebeen Pub
5555 Eglinton Ave. W., Etobicoke ON M9C 5M1 —
map
Free beer voucher for every team • Food specials at the HQ bar!
Tournament Flyer
Tournament Entry Form
Tournament Frequently Asked Questions
Randy Warren — e-mail preferred:
accent@slopitch1.com
• Cell 416-930-6124 •
Entry Fee $300.00