Toronto Area Slo-Pitch Tournament Directory
Updated February 25, 2022
This is a directory of slo-pitch tournaments in the west Toronto, Mississauga and Brampton areas.
To add your tournament listing to this page, please contact Randy Warren, accent@slopitch1.com


Slo-pitch, slow pitch or softball, no matter how you spell it, it's a great game!
How To Register For An SPN Tournament
Updated June 15, 2021
Instructions on How To Enter An SPN Slo-Pitch Tournament.
Also how to submit your tournament event roster and how to revise your event roster once submitted.
How To Enter An SPN Slo-Pitch Tournament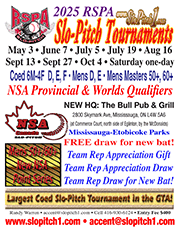 Team Rep Appreciation Gift & Appreciation Draw • Team Draws • Free Pitcher • Karaoke Party!
SPN Grand Slam Tournament Series for Mens C and Mens D

2022 DATES FOR THE EVENTS: • May 14-15 • June 11-12 • June 25-26 • August 13-14
LOCATION: Brampton, TBA

PRIZING & POINTS:
• Mens C total points 1st place will win $15,000 • Mens D total points 1st place will win $10,000
• Event points – 1 point for every win, ½ point for a tie, 5 points for each winner,
4 points for 2nd place, 3 points for 3rd place, 2 point for 4th place
• Each event winner in each division (Mens C and Mens D) will receive up to 14 bats for players
• 2nd place teams will receive SPN prizing
• Tournament prizing shall be awarded to a maximum of 14 members for each team (including coaches).
All members must be present to accept prizing. Failure to collect prizing at the event shall result in a forfeit of all prizes.
ENTRY FEES & DEADLINES:
• Registration for the Grand Slam opens March 1, 2022, at 10am
• Fees – Gram Slam SPN admin fee - $125 + HST per team
• Fees – All teams must be 2022 fully insured members of SPN, either via their league registration or by purchasing online at slo-pitch.com
• Entry fee for each event $450 plus HST • Entry for each event must be sent thru the SPN Central Portal
• Entries must be received by SPN by 10:00pm Friday of the week before the tournament
• All teams must be paid in full by the deadline or they will not be scheduled to play.
• EMTs will only be accepted and sent to payspn@slo-pitch.com Please specify your team name, division, and the event date on all EMTs
TOURNAMENT SCHEDULES & FORMATS:
• Round Robin Format. Top 50-75% will play on Sunday: 12 out of 16, 16 out of 24
• The schedule will be posted no later than 2pm on the Wednesday prior to the tournament date
• All events schedules will be done by a live wheel draw.
ROSTER GUIDELINES:
• All rosters must be finalized by July 1 • All players must be active on the roster
• Permitted up to 20 players on the roster • Use of an ineligible player may result in disqualification of the team and all points accumulated.
• Ejections lose points for that game • All teams must compete in all 4 events to be eligible for the final prize money.
CONVENER:
SAM FENECH
sam@slo-pitch.com
;
For official Slo-Pitch National page for SPN Grand Slam Tournament Series - click here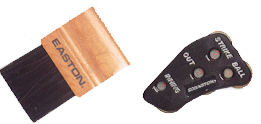 SPN Umpire Information:
SPN Umpire Exam
SPN 2022 Rule Book
SPN Umpire Manuals
SPN Umpire Incident Report Form
RSPA Umpire Information:
RSPA Parks and Maps
RSPA Park-Night Preference Form
SPN/RSPA Slo-Pitch Umpire Clinic April 27, 2022
RSPA umpire clinic scheduled for
Wednesday, April 27
,
6:30 pm at Irish Shebeen Pub,
5555 Eglinton Ave. W., Etobicoke ON M9C 5M1 —
map
RSPA needs SPN carded umpires for recreational coed slo-pitch league and tournaments.
We will train and card. You will be eligible to umpire any SPN league or tournament.

You will become a fully sanctioned SPN umpire, eligible to umpire any SPN league or tournament in Canada.

Clinic cost is $105 + GST = $118 and includes: SPN umpire card, rulebook, hat, instruction clinic and umpire test.

If you have already written the SPN test you may attend the RSPA umpire clinic for free.

If you attend the RSPA umpire clinic, we will guarantee umpire bookings of at least your clinic cost
(we cannot guarantee parks or nights).

RSPA is an adult recreational, coed league, with parks in Mississauga-Etobicoke, Monday to Friday, weekend tournaments available.

RSPA 2022 umpire rates:
$50 for a single game (no time limit); $80 for a double-header with time limit (starting 8:00/8:30 pm);
$90 for a double header with no time limit (starting 6:30/7:30 pm); $120 for a triple-header (6:30 pm to 11:00 pm).
TOURNAMENT:
$35 per game (usually 1:15 game slot) Saturday only one-day tournament.
Tournament Dates 2022:
May 7 • June 4 • July 16 • July 23 • August 20 • Sept 24 • Oct 1 • All Saturday, one-day.
Get out, get some exercise, have some fun and earn some extra cash.
Anyone wishing to become a carded umpire should contact the League.

Contact Randy Warren,
accent@slopitch1.com
SPN 2022 Provincial Championships
Updated October 17, 2021
Slo-Pitch National Provincial Championship dates for 2022.

August 26-27-28, Friday-Saturday-Sunday in Niagara Falls.
• Mens Masters 35A, 35C, 35D, 35E; Mens Masters 50A, 50IM & 50E;
• Womens Masters 35A, 35IM & 35E.

September 3-4-5, Saturday-Sunday-Monday, at Sesquicentennial in Brampton.
• Coed will be on the Labour Day long weekend. No Friday games.
• Coed Comp, C, D, E & F.

September 9-10-11, Friday-Saturday-Sunday in Niagara Falls.
• Mens C & Mens D with Womens D & Womens E.

September 16-17-18, Friday-Saturday-Sunday in Niagara Falls.
• Mens A, B & E & Mens Seniors 55+ & 60+; Womens A, B & C & Womens Masters 50+.
SPN Provincials offers Mens 55+ & 60+ and Womens 50+
• SPN Ontario Provincial Championships Mens Seniors 55+ & 60+ and Womens 50+! ⚾⚾⚾
• Niagara Falls, Patrick Cummings Sports Complex, and will be featured on Diamonds 1-4 at Patrick Cummings.
• Teams will be welcomed on Friday evening, with their first tournament game being played after 5pm!
• Players are allowed to participate in both the Mens 50+ or Mens 35+ and Mens Seniors 55+ or 60+.
• Players just need to turn 50/55/60 by December 31st.
• 60's teams do not need to qualify for this event – simply register online for the tournament at www.slo-pitch.com
• Players who played in the +35 or +50 events are welcome to participate on a mens 55+ or 60+ team a 2nd time!
SPN Bat Rules in Effect
Slo-Pitch National recognizes and accepts ONLY the USSSA authorized bats
for use in the SPN program. --
www.usssa.com
All SPN approved bats must carry the USSSA stamp for use in the SPN Program.
SPN 2021 Rule Book
Note:
Local leagues have the ability to set their own bat policies.
Note:
This rule is
NOT
in effect for RSPA Slo-Pitch.
RSPA allows the use of both USSSA and ASA approved bats.