RSPA Slo-Pitch Umpires
Updated January 3, 2019
RSPA - Recreational Slo-Pitch Association has its own slopitch Umpires Association.
If you wish to become an RSPA Umpire, please contact the League — E-mail:
accent@slopitch1.com
RSPA/SPN Umpires Clinic — Wednesday, April 24, 2019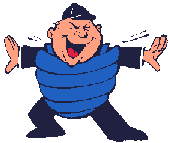 SPN carded umpires wanted for recreational coed league. We will train and card.
SPN sanctioned Umpire Clinic is scheduled for Wednesday, April 24, 2019, 6:00 pm,
at Diamond Beach, 575 Centennial Park Blvd., Etobicoke Ontario, M9C 5M3 —
map
This is a fully sanctioned SPN umpire clinic, where you will be trained and carded.
Clinic includes: SPN umpire card, exam, rulebook, hat and instruction clinic.
Cost is $110.00 (cheque or cash; NO MasterCard; NO Visa) cheques are payable to RSPA.
RSPA is a recreational, coed league, with parks in Mississauga-Etobicoke, Monday to Friday, weekend tournaments available.
If you attend the RSPA umpire clinic, RSPA will offer umpire bookings of at least double your clinic cost.
(We cannot guarantee parks or nights).
Anyone wishing to become a carded umpire should contact the League.
accent@slopitch1.com
Looking forward to another great slo-pitch season!