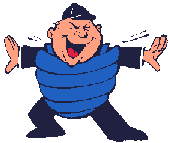 RSPA Umpires Wanted - 2017
RSPA needs SPN carded umpires for recreational adult coed slo-pitch league. We will train and card.
You will become a fully sanctioned SPN umpire, eligible to umpire SPN league/tournament.
SPN/RSPA umpire clinic is scheduled for Wednesday, April 26, 6:30 pm at Diamond Beach
575 Centennial Park Blvd., Etobicoke Ontario, M9C 5M3 (Etobicoke-Mississauga border) —
map
Clinic cost is $100 and includes: SPN umpire card, rulebook, hat, instruction clinic and umpire test.
We will guarantee umpire bookings of at least double your clinic cost (we cannot guarantee parks or nights).
RSPA is a recreational, coed league, with parks in Mississauga-Etobicoke, Monday to Friday.
Weekend tournaments are available.
e-mail:
accent@slopitch1.com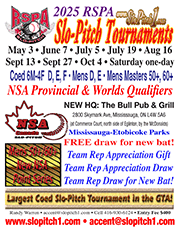 RSPA 2017 Summer Slo-Pitch Tournaments
Spring Bash - Saturday-Sunday, May 6-7 - Etobicoke-Mississauga ALSO: June 10-11, July 15-16, August 19-20, Sept 23-24
Coed (6M-4F) D, E, F; Mens D, E • also Mens Masters 35+, 50+ for May 6-7 only.
SPN Provincial & National Qualifiers with new SPN awards
Etobicoke-Mississauga - Headquarters: Irish Shebeen Pub
5555 Eglinton Ave. W., Etobicoke ON M9C 5M1 —
map
• Team Rep Appreciation Gift & Appreciation Draw • Team Draws •
Tournament Flyer
Tournament Entry Form
Tournament Frequently Asked Questions
Randy Warren — e-mail preferred:
accent@slopitch1.com
• Tel 905-840-7206 (msg only) • Cell 416-930-6124 •
Entry Fee $350.00


Niagara Falls, ON - Mens C, Mens 50+A, 50+IM, 50+E, Coed C, Coed D, Womens B, Womens 35+
Orillia, ON - Mens A, Womens A • St John's, NL - Mens B, Mens D, Womens D, Coed E, Coed Comp
Alberta, TBA - Mens 35 Comp, 35C, 35D, 35E, Womens C, Coed SS (E, D, C, Comp)