RSPA Slo-Pitch — Uniforms
Updated April 7, 2017
RSPA Rule:
ALL players must wear matching tops.
It is recommended that uniform tops have numbers (at least 4 inches high) visible.
It is also recommended that teams adopt a uniform pants/shorts colour. Coaches must also have matching tops.
MATCHING will be interpreted as "having the same body colour and shade and the same sleeve colour and shade".
The BODY COLOUR and SLEEVE COLOUR do NOT have to be the SAME.
Stripes will NOT be interpreted as a colour and should be ignored when determining if the uniform matches.
Uniforms can be as simple as matching colour t-shirts.
RSPA Meeting:
Uniforms will be available to order at both RSPA league meetings.
UNIFORM Deadline:
Uniform deadline is June 15th.
UNIFORM FINE:
For any player participating (offensively or defensively) in a game that is not wearing a uniform top (after the deadline), the team will be assessed a $10 (ten dollar) fine per player to a maximum of $100 per night.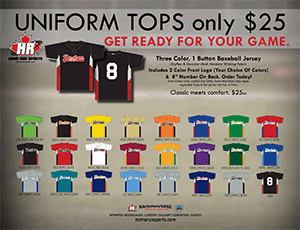 The official equipment and uniform supplier for RSPA is:
Home Run Sports
1911 Dundas Street East, # 15, Mississauga, ON L4X 1M1 — Tel 905-232-1048
north side of Dundas, between 427 and Dixie Road —
map
Uniforms can also be ordered at both RSPA meetings.
RSPA Uniform Page
Baseball jersey flyer 2017 pdf
Equipment is available at both RSPA meetings
Equipment including bases, pitching mats, bats, some gloves, etc. will be available at both RSPA meetings.
RSPA Equipment Order Form