RSPA Volleyball Night - Friday, July 14, 2017
Updated April 7, 2017
The RSPA Volleyball Night returns for 2017, scheduled for Friday, July 14
at Diamond Beach, 575 Centennial Park Blvd., Etobicoke Ontario M9C 4V1 — Diamond Beach map
This event is not mandatory and any participation is optional.
However, if you ask anybody who has attended, they will tell you what a fun night it is!
Teams will be formed from existing slo-pitch league teams, as well as pick-up teams will be entered.
Players, guests and friends are welcome. Prize for winning team.
Enter as your team, or enter as a group or individual players and we will find a team for you.
Teams are coed 6 players on the court (one female on the court at all times)
Minimum 5 players (if you are short, there are individual players looking for a team)
Registration starts at 6:00 pm; games start at 6:30 pm;
Late team entries will be allowed if you cannot get there until 7:30 or 8:00 pm.
FREE ENTRY! FUN! FOOD! BEER! PRIZES! what more could you ask for?
All food and beverages at Diamond Beach are at a subsidized price.
ABSOLUTELY NO COOLERS, NO DRINKING IN THE PARKING LOT.
OFFENDING TEAMS WILL BE SUSPENDED FOR TWO GAMES FROM RSPA.
We are looking for prizes, volunteers, ideas, etc.
Give us your input. Another fun night out!
New for 2016: If your team does not attend RSPA Volleyball night, be prepared to play RSPA league games.
If you wish to be kept informed of other upcoming events, please email me at
accent@slopitch1.com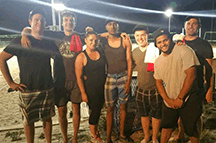 RSPA Volleyball Night - 2016
RSPA Volleyball Night was Friday, July 22 at Diamond Beach.
Hottest night of the year but we had a cool time on the beach volleyball courts, cooled down by beverages.
Team Mixed Balls beat Honey Badgers in the finals, and Boobs and Balls, who was a combination of several teams, beat Litigators in the consolation round.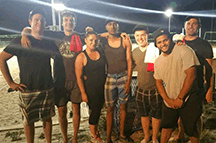 RSPA Volleyball Night 2011
The RSPA 2011 Volleyball Night was held Friday, July 15, 2011.